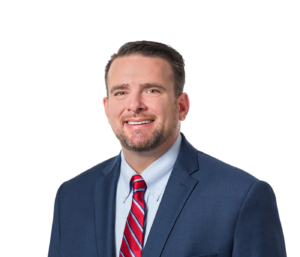 November 2, 2020
Ben Carnahan, who focuses his practice on business services and litigation, has joined Walter Haverfield as a partner in its Cleveland office.
"I am thrilled to join a full-service firm with deep bench strength that is focused on providing personalized service to its clients," said Carnahan who most recently worked at a mid-size Midwest law firm. "The depth and breadth that Walter Haverfield offers will be a substantial benefit to my current clients."
Carnahan represents companies big and small, from the nation's largest banks, lenders and loan servicers to small businesses and closely held corporations, often serving as outside regional counsel managing litigation in multiple states/jurisdictions for his clients.
"Ben is known for building long-lasting client relationships and is a trusted advisor on a range of issues," said Ralph Cascarilla, managing partner of Walter Haverfield. "We are eager for him to join the team and know that he will immediately add value to our growing firm."
As a litigator, Carnahan focuses on resolving matters in a cost-effective manner by identifying and analyzing the root cause to determine strengths and weaknesses in a case. Furthermore, he works collaboratively with clients to develop objectives and strategies early on in the litigation process.
Carnahan currently serves as a board member and treasurer of Taleris Credit Union in Northeast Ohio. The positions have allowed him to gain a better understanding of the business side of banking, which is also advantageous to his financial institution clients.
In his personal time, he enjoys hiking with his yellow lab, painting, boating, and water/snow skiing with his wife and two children.
Since 1932, Walter Haverfield attorneys have served as strategic counselors to private businesses, public organizations and high-net-worth individuals, providing creative and customized solutions that deliver outstanding results at an exceptional value. Today, our team of nearly 80 attorneys is focused primarily in the areas of business services, real estate, intellectual property, labor and employment, tax and wealth management, hospitality and liquor control, litigation, public entities and education.