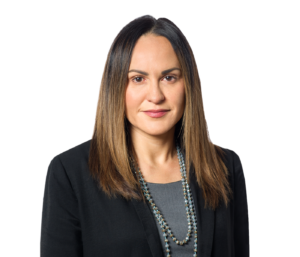 For several years, Elizabeth Hijar, a Harvard Law graduate, served as an associate at Bryan Cave Leighton Paisner's New York office, as well as Cleveland's Thompson Hine LLP, a full-service business law firm.
But then, in 2010, her career changed trajectories, as she began to consult for Cleveland-area nonprofits. Four years later, she joined The Centers for Families and Children (also known as The Centers), a $65 million agency focused on healthcare, early learning and workforce training services.
After serving the nonprofit for one year, she was promoted to general counsel of The Centers in 2015. In this role, Hijar oversaw and managed the organization's legal priorities, which ranged from labor and employment issues, to mergers and acquisitions. She also supervised the client rights and risk departments.
Two years later, The Centers promoted Hijar to chief operating officer, in addition to her role as general counsel. The opportunity gave her the increased responsibility of overseeing compliance, facilities, human resources, information technology and quality improvement.
"Through each of these capacities, I was able to streamline operations, minimize risk and reduce expenses," says Hijar, a Texas native. "As a result, we were ultimately able to invest more in our infrastructure and expand our services to those in need."
Hijar's vast experiences at The Centers caught the attention of Kevin Murphy, administrative partner of Walter | Haverfield, a full-service law firm headquartered in Cleveland. Murphy had known Hijar for more than 10 years, as they were colleagues at Thompson Hine LLP. The two stayed in touch after Hijar left the firm, and Murphy regularly followed her career promotions and successes.
When Walter | Haverfield's former chief operating officer announced his retirement, Hijar was one of the candidates Murphy thought of, as the firm ultimately interviewed and hired her for the chief operating officer role last December. In an industry that has historically struggled with diversity, Murphy was also excited to have a Mexican-American woman serve in this role.
"The position presented an exciting opportunity to contribute to Walter | Haverfield's evolution, while also providing me more professional growth," Hijar stresses. "It is a new challenge within a new industry, but I feel that my experience and background aligns perfectly with the position."
She adds, "There is a benefit coming from the outside, so to speak—from a completely different industry. It allows me to ask questions that may lead to increased efficiencies and effectiveness."
This increase in efficiencies and effectiveness is especially vital now, as Walter | Haverfield's leadership transitions, and the firm considers ways in which it will be reorganized for the future. At the same time, the firm is also changing its management structure, which Hijar will be involved with considerably.
"When I started at Walter | Haverfield, we had 55 lawyers. Now we have nearly 100," Murphy says. "We plan to increase the size of our offices in Cleveland and Columbus and will explore opportunities to expand our geographic footprint in the Midwest."
"At nonprofits, there is tremendous pressure to be as efficient as possible, which helps drive innovation," Hijar emphasizes. "I look forward to transferring the lessons I learned at The Centers to Walter | Haverfield, in order to support the delivery of excellent service to our clients."
This article also appears in Crain's Cleveland Business. Subscribers, click here. 
Since 1932, Walter | Haverfield attorneys have served as strategic counselors to private businesses, public entities and high-net-worth individuals, providing creative and customized solutions that deliver outstanding results. Our track record has allowed us to sustain year-after-year growth, and in the past decade, we have doubled our size. Today, our team of nearly 100 attorneys is focused primarily in the areas of business services, real estate, intellectual property, labor and employment, education, tax and wealth management, hospitality and liquor control, litigation and public law.
https://www.walterhav.com/wp-content/uploads/2022/03/Elizabeth-Hijar-2-8-22.png
1200
1400
Walter Haverfield
https://www.walterhav.com/wp-content/uploads/2021/01/walter-haverfield-logo_newblue.png
Walter Haverfield
2022-03-14 13:00:26
2022-03-15 14:31:13
Meet Elizabeth Hijar: Walter | Haverfield's New Chief Operating Officer