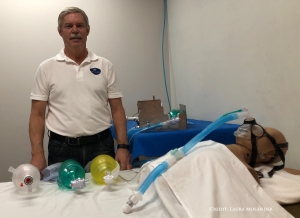 May 5, 2020
A Cincinnati-based nonprofit corporation, Venti-Now™, has received FDA temporary Emergency Use Authorization to create a portable ventilator to meet the ventilator shortage caused by the COVID-19 pandemic.
Venti-Now™, a Walter | Haverfield client, created the Venti-Now Class II medical device unit in three weeks with professionals from Proctor & Gamble (P&G) as well as the University of Cincinnati's Medical Center, Children's Hospital, and its Biomedical Engineering program.
"We built and tested a breakthrough ventilator design which can be manufactured rapidly with very few components," said John Molander, president of Venti-Now™ and retired Proctor & Gamble engineer. "We believe our product will make an immediate impact."
"It is an honor to collaborate with and counsel the Venti-Now team to swiftly and effectively bring a life-saving product to market," said Vince Nardone, a Walter | Haverfield partner who, among others within Waler | Haverfield, assisted Venti-Now™ with its business formation, licensures, trade-mark, and patent processes, and continues to assist with similar matters. "The Venti-Now team's dedication and passion exemplifies the ingenuity of individuals to pull together and help others during times of need."
The ventilator, which is light enough to be carried with one hand, is an electro-pneumatic ventilator for patients in the early stages of acute respiratory distress syndrome (ARDS). It uses hospital compressed air to drive the unit and 110v to power it.
Venti-Now™ units will be sold at a fraction of the cost of devices currently on the market, and they have lower operation and maintenance costs. The team also aims to provide low-cost ventilators to regions of the world that cannot afford multi-modal ventilators.
Since 1932, Walter | Haverfield attorneys have served as strategic counselors to private businesses, public entities and high-net-worth individuals, providing creative and customized solutions that deliver outstanding results at an exceptional value. Our track record has allowed us to sustain year-after-year growth. Walter | Haverfield has doubled its size in the past decade to become one of the top ten Cleveland-based law firms. Today, our team of nearly 90 attorneys is focused primarily in the areas of business services, real estate, intellectual property, labor and employment, education, tax and wealth management, hospitality and liquor control, litigation and public law.
https://www.walterhav.com/wp-content/uploads/2020/05/VentiNow-scaled.jpg
1861
2560
Walter Haverfield
https://www.walterhav.com/wp-content/uploads/2021/01/walter-haverfield-logo_newblue.png
Walter Haverfield
2020-05-05 11:49:56
2020-09-21 09:08:56
Ohio Nonprofit Develops Mobile Ventilator for COVID-19 Patients