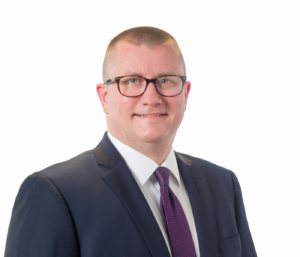 November 11, 2020 
The United States Army Reserve has selected Jason K. Wright for promotion to Lieutenant Colonel. Jason is an associate in the Business Services Group, and formerly held the rank of Major. In his new role as a Lieutenant Colonel, Jason will become a senior leader in his Army unit, responsible for training and mentoring junior attorneys and Army Reserve officers.
Jason has been a member of the U.S. Army Reserve Judge Advocate General's Corps since 2002. The Army Reserve, a reserve force for the U.S. Army, along with the Army National Guard, constitute the Army element of the reserve components of the U.S. Armed Forces.
Prior to joining Walter | Haverfield, Jason was mobilized three times in support of Operation Enduring Freedom and Operation Iraqi Freedom, and practiced law with the U.S. Army in Fort Hood, TX, Afghanistan and Iraq. Some of his responsibilities in those locations included overseeing internal investigations of alleged misconduct, conducting legal reviews of completed investigations, drafting ethics opinions, providing legal advice on fiscal law and government acquisitions, and overall serving as a legal advisor to the Command.
In being selected for the promotion, Jason has gained the respect from his peers needed to rise up the ranks.
"We sincerely thank Jason for his service and congratulate him on his promotion with the U.S. Army Reserve," said Ralph Cascarilla, Walter | Haverfield Managing Partner. "Jason is invaluable to our team, as he continually demonstrates a strong worth ethic and high moral standards."
Jason has two decades of diverse experience in consumer bankruptcy, consumer finance regulation, litigation, government contracts and fiscal law. He also has extensive trial experience and is accustomed to counseling leaders and articulating complex legal principles.
Since 1932, Walter | Haverfield attorneys have served as strategic counselors to private businesses, public organizations and high-net-worth individuals, providing creative and customized solutions that deliver outstanding results at an exceptional value. Today, our team of nearly 90 attorneys is focused primarily in the areas of business services, real estate, intellectual property, labor and employment, tax and wealth management, hospitality and liquor control, litigation, public law and education.
https://www.walterhav.com/wp-content/uploads/2020/11/JasonWright.png
1200
1400
Walter Haverfield
https://www.walterhav.com/wp-content/uploads/2021/01/walter-haverfield-logo_newblue.png
Walter Haverfield
2020-11-11 09:14:50
2020-11-11 09:24:31
Walter | Haverfield Attorney Selected for Promotion to Lieutenant Colonel in the U.S. Army Reserve Judge Advocate General's Corps