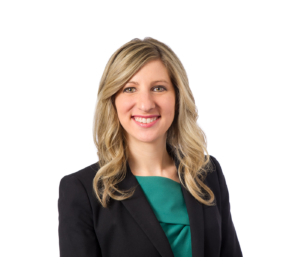 Jamie Price, an attorney who focuses her practice on civil, commercial and probate litigation, recently joined the Cleveland Bridge Builders class of 2019. The Mobile, Alabama native applied for the competitive 10-month program, which teaches participants how to create meaningful change around a civic issue impacting Northeast Ohio.
"I sought out Bridge Builders to gain a deeper understanding of the civic community in Cleveland and find a hands-on way to give back" said Price, who is an avid runner. "I'm proud to be a part of such a fantastic program."
Bridge Builders includes 60 local participants in its latest class, all of whom were chosen because they demonstrated a commitment to the community, strong leadership and problem-solving skills.
Price has been highly involved in the Anti-Defamation League (ADL) for the past decade. She serves on its regional board and is a part of the ADL's national civil rights committee. The Shaker Heights resident is also a new member of the National Council of Jewish Women and serves on the Ethics and Professionalism committee of the Cleveland Metropolitan Bar Association.
As part of the program, participants apply their skills to assist a local community organization in boosting its strategic efforts and overall effectiveness.
"I'm eager to find my place within the civic realm of Cleveland and pinpoint an organization in which I can become involved," added Price, who was selected to the Ohio Super Lawyers 2018 Rising Stars list for business litigation. "And throughout the Bridge Builders program, I look forward to learning more about myself and others. That process will help me become a more effective leader and communicator to ultimately assist others in need."