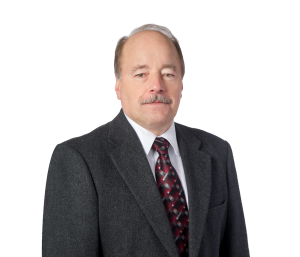 It was January 1980 when 22-year-old Gary Bloom walked into a 12-lawyer firm in downtown Cleveland for a job interview.
"I was looking for a position out of school, but not necessarily at a law firm," said Bloom of South Euclid.
Bloom had just graduated from nearby John Carroll University, and a family friend who worked at the firm told him about an open docket clerk position.
"I was hired on the spot," he added. "But I didn't have any notion that I'd be here a long time."
On January 21, 2020, Bloom celebrates his 40th work anniversary at Walter | Haverfield. As docket supervisor, he is the most senior staff member of the firm.
"It became a job for me over the years that I enjoy doing," said Bloom who grew up in East Cleveland and South Euclid. "It's always been an ongoing learning experience. I've learned a lot about the courts and how our legal system works behind the scenes."
Bloom started his career at Walter | Haverfield working with the firm's co-founders, Paul Walter and Rusk Haverfield.
Walter dedicated most of his life to politics, working with Presidents John F. Kennedy and Lyndon B. Johnson as well as U.S. Senator Robert Taft. Haverfield was a Harvard Law School graduate. Together, they began Walter | Haverfield in 1932. Both died in 1992.
"I found Paul Walter to be an interesting person, very interesting to listen to," said Bloom. "His office was like a museum. It had so many political artifacts from various elections. Rusk Haverfield interviewed me for the docket clerk position. He was more reserved than Paul, yet brilliant and very nice."
In Bloom's time at Walter |Haverfield, the firm has grown to 90 attorneys and four offices throughout Ohio. He's enjoyed being part of the growth and credits his longevity at the firm to its upstanding reputation, friendly colleagues and the various opportunities to work on wide-ranging projects and tasks. He also assists with the firm's marketing department.
"The firm has always prided itself on its work with long-standing clients, and the people have made the commitment to practice law the right way here," he added.
Bloom, who is now 62 years old, plans to work a few more years before retiring. At that point, he said he'll spend more time traveling and volunteering in the community.
Since 1932, Walter | Haverfield attorneys have served as strategic counselors to private businesses, public entities and high-net-worth individuals, providing creative and customized solutions that deliver outstanding results at an exceptional value. Our track record has allowed us to sustain year-after-year growth. Walter | Haverfield has more than doubled in the past decade to become one of Cleveland's top ten law firms with additional offices located in Columbus, Mayfield Heights and Avon. Today, our team of 90 attorneys is focused primarily in the areas of business services, real estate, intellectual property, education, labor and employment, tax and wealth management, hospitality and liquor control law, litigation and public law.
https://www.walterhav.com/wp-content/uploads/2020/01/Gary-Bloom.png
1200
1400
Walter Haverfield
https://www.walterhav.com/wp-content/uploads/2021/01/walter-haverfield-logo_newblue.png
Walter Haverfield
2020-01-20 14:20:06
2020-01-20 16:13:39
Walter | Haverfield Docket Supervisor Marks Four Decades of Service